Initially Prambors is a radio composed by a group of young people
which can only be heard in the Jakarta area, a number of members of Prambors, Imran
Amir, Mursid Rustam, Malik Sjafei and Bambang Wahyudi
They also assemble simple transmitters and all kinds of supporting devices
in Bambang Wahyudi's rest room. Because there is no cassette or tape player
portable, then dipakailah rotary plates to play songs from the record.
In 1970, the Government issued a new rule, that each radio is incorporated
the law must be in the form of a Limited Liability Company (PT) or Association. Prambors too
abide by the rules, to the point of becoming PT Radio Prambors Broadcasting
Service. Certificate is then processed into PT Radio Prambors in the 80s.
Slowly, it turns out that Prambors already has a community of listeners
the majority of young people. Songs and broadcast lessons were matched with
segmentation, ie young people. From 1971 to 1978, Prambors was also growing
steady in the path of young people, who at that time as there is no rival. Product of Prambors
more diverse. Starting from compilation tapes, to the off-air event of Songwriting Competition
Teenagers (LCLR) are successful.
In the 80s, Prambors began to fix because in this era began to feel
competition with other radio stations. One of their endeavors to remain
keeping the listener community is through games, quizzes developed
quite varied, with gifts that were then quite sensational, for example cars.
In addition to the quiz, in the era of the 90's began to attend also new events, such as Boy's Notes,
Diary, even off-air event like Tenda Mangkal, Prambors Nite. Community listeners
Prambors increasingly large, especially supported by audio quality improvements with
moved to FM 102.3 in 1987.
Due to the re-arrangement of all frequencies issued by
Department of Transportation, as of August 1, 2004 Prambors changed its frequency
was FM 102.3 to FM 102.2. Until now, Prambors has appeared in 8 cities
in Indonesia, namely in Prambors Jakarta 102.2 FM, Prambors Bandung 98.4 FM,
Prambors Semarang 102 FM, Prambors Solo 99.2 FM, Prambors Yogyakarta 95.8 FM,
Prambors Surabaya 89.3 FM, Prambors Medan 97.5 FM, and Prambors Makassar 105.1
FM. The extent of Prambors network is increasingly felt especially in so many programs
which jump from Jakarta directly to 8 cities.
Until now, Prambors continues to accompany young people with programs
exciting. Every Monday – Friday there is Happy BeGi! For morning program, day
given guidance by Indra Bekti and Nycta Gina, during the day there is Hit the Hits guided
by Andari, In the afternoon there is a Danang Show given a guide by Danang, at night there
The Hey-Ho Show is guided by Jessica Elenora and Kresna Julio, and on Saturday-and
week there is The Weekend Show given guidance by CJ, and also Hot 20 Countdown
guided by Reza Alqadri.
With empirical 40 years (since 1971) year as a radio of young people,
Prambors is not infrequently the Place of the Younger Child. Prambors and creativity
not only accessible to mudan and beyond the radio, but also via the internet, either
through the official website of Prambors (www.pramborsfm.com) or through so many kinds
social media youngsters like Twitter and Facebook. The gadget means like a phone
cellular, computer, and other media were so among the means of young people to
access Prambors.
For many years in the air, Prambors had a most embedded logo
with the name of Prambors. The logo is a face of a woman with curly hair,
vignette images. People call it "Si Jabrik". This logo does not have a moment yet
Prambors is still a "gang" era.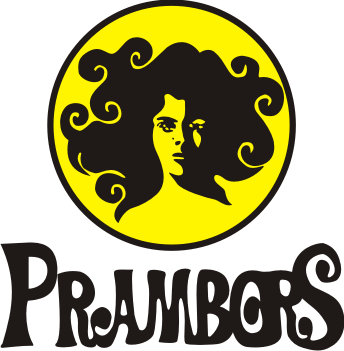 Initially the logo of Prambors present only has temporary properties in sticker format
read "Prambors". But as time went by, this business changed when
Prambors must be a business entity. When Prambors must have a logo that is
fixed and unchanged. The current Prambors logo was inspired from among the covers
a collection album of Dutch music – The Exception is very unique attention.
Images from the album are similar to "Si Jabrik". But to make a difference,
The Prambors logo was modified. The image of the woman is processed so facing
to the bottom, And the culminating image is one of the former broadcasters of Prambors,
Wimi.
The 'Jabrik' logo began to be worn around 1969, when Prambors had
shaped foundation. This curly woman is so popular that not a few are
imitate and install in the car windshield.
In the 1980s, the size of the Jabrik narrowed, only in the letter "O"